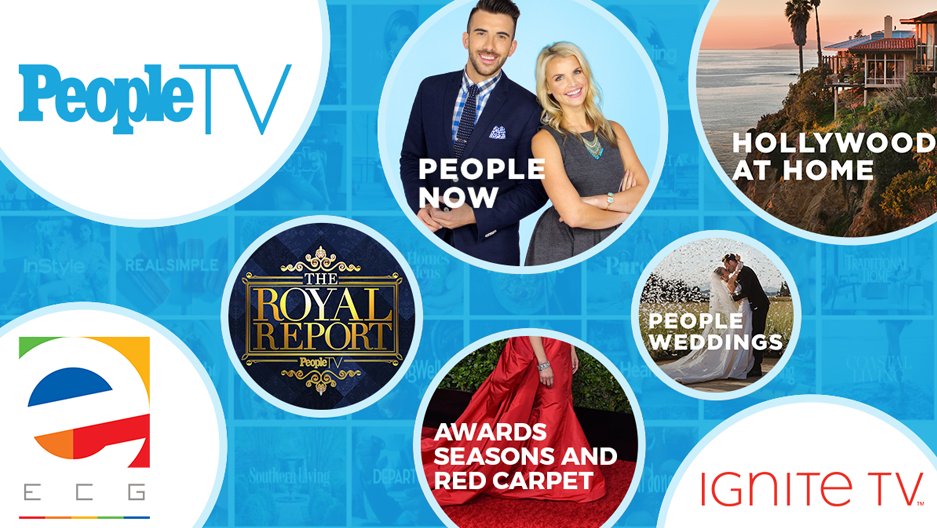 People TV launches in Canada on Rogers Communications' Ignite TV service featuring programming from People and Entertainment Weekly
January 22, 2020
Toronto, Canada – Ethnic Channels Group Ltd. (ECG), the world's largest multicultural broadcaster, strengthens its mainstream English language distribution by launching PeopleTV in Canada on IGNITE TV. Meredith's PeopleTV delivers celebrity and entertainment news highlighting live red-carpet events, the royals, popular TV cast reunions, high-profile celebrity interviews, and much more.
PeopleTV is powered by the award-winning PEOPLE and Entertainment Weekly newsrooms in New York and Los Angeles. Marquee shows on the network include PEOPLE Now, Entertainment Weekly Cast Reunions, Couch Surfing, The Royal Report, and Reality Check.
"PEOPLE and Entertainment Weekly are iconic brands that exemplify the highest standards in the world of entertainment. As ECG continues to foray into mainstream television, this launch will further fortify our English entertainment content offerings and support our strategy to expand beyond the multicultural market in Canada," said Slava Levin, CEO and Co-founder of Ethnic Channels Group.
"PeopleTV is delighted to launch our best-in-entertainment programming in Canada on Rogers IGNITE TV," said Chris Brouder, VP, International Video Distribution, Meredith. "We look forward to introducing the market to our signature series such as the weekly show centered around the British royal family, The Royal Report, and the daily entertainment news show, PEOPLE Now."
PeopleTV is now available on free preview on Channel 304.
ABOUT People TV:
PeopleTV is the celebrity news and entertainment network powered by the award-winning PEOPLE and Entertainment Weekly newsrooms. Viewers have unlimited, daily access to an expansive slate of programming which includes breaking news, live red-carpet coverage, exclusive behind-the-scenes access into magazine cover stories, popular cast reunions and high-profile, one-on-one celebrity interviews. PeopleTV is available on PeopleTV.com, iOS and Android devices, Roku, The Roku Channel, Amazon Fire, AppleTV, Chromecast, Xumo, Pluto, and STIRR, in addition to fuboTV, Philo, GCI and Rogers IGNITE.
SHARE